Best of Greenwich Walking Tour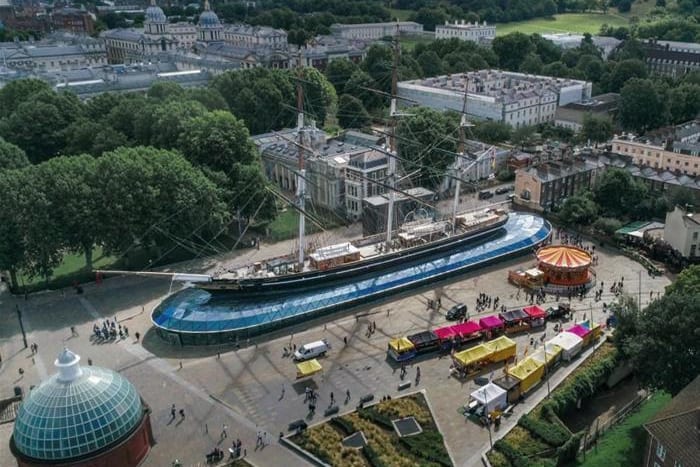 TOUR BESCHREIBUNG
Explore the beautiful and historic maritime area of Greenwich
See The National Maritime Museum, Old Royal Naval College and Chapel
Visit the Royal Observatory in Greenwich
Discover the rich history of one of the last tea clippers ever built
2 hour guided walking tour
Entry to attractions
Food and drink
Wichtige Informationen
Start Time
10am on Wednesday and Friday
Joining point:
King William Walk, Greenwich Peninsula, London SE10 9HT
Mehr Informationen
Greenwich is so much more than just a borough in southeast London, it's a UNESCO World Heritage Site, renowned for amazing architecture, museums and its maritime history. Your expert guide will take you on a journey of discovery as you explore the beautiful area of Greenwich on this two hour waling tour.
No visit to Greenwich would be complete without a stop off at 'the home of time', The Royal Observatory, an architectural masterpiece from Sir Christopher Wren, it is the home of Greenwich Mean Time and the famous Prime Meridian of the World - 0° 0' 0".
Strolling through Greenwich Park you'll and pass the National Maritime Museum and the Queen's House, one of England's most interesting and architecturally important buildings as the first classical structure of its time in the UK.
There is so much more to be discovered down by the Greenwich riverside, it is the long-established resting place of the Cutty Sark. A now recognised part of the London skyline, she is one of the world's most iconic globe-trotting ships and only surviving tea clipper.
Other stops on this fascinating walking tour include the popular Greenwich Market, the Trafalgar Tavern which was one of Charles Dickens regular haunts, The Chapel of the Old Royal Naval and The Old Royal Naval College an architectural centerpiece of Maritime Greenwich and UNESCO World Heritage Site.
The Best of Greenwich Walking Tour starts in front of the Cutty Sark at 10am and will end at approximately 12pm