London's Royal Palaces & Parliament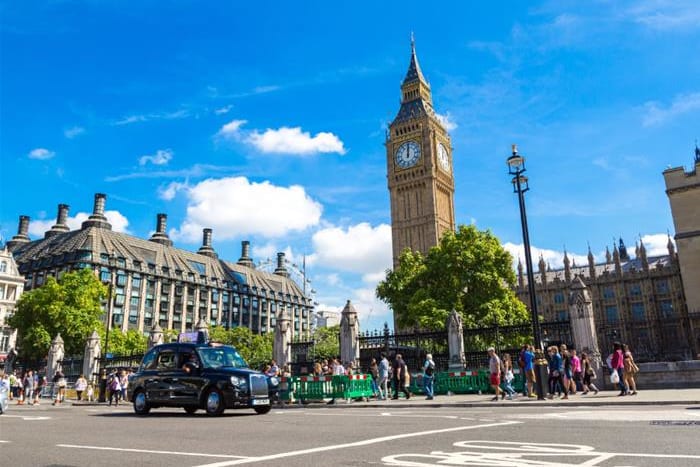 TOUR BESCHREIBUNG
Walk around Parliament Square and admire the tower housing Big Ben
See the stunning Westminster Abbey
Visit the official residence of the Prime Minister
Prepare to be amazed by Buckingham Palace
Led by an experienced and knowledgeable guide
3 hour guided walking tour
Entry to attractions
Food and drink
Wichtige Informationen
Start Time:
2:00pm every Saturday and Sunday.
Joining point;
101 Buckingham Palace Rd, Victoria, London SW1W 0SJ, next to Victoria train and underground station
Mehr Informationen
Discover four Royal Palaces located in the heart of London on this fascinating three hour walking tour. Whitehall Palace, St James's Palace, Westminster Palace and Buckingham Palace, the first stop and the most iconic of them all.
As you stand in Parliament Square, lined by trees and statues of well-known statesmen, you'll be surrounded by some of the most spectacular buildings in the city. Westminster Abbey, a gothic abbey church and World Heritage Site. And Westminster Palace more commonly known as the Houses of Parliament, with its iconic clock tower Big Ben or officially Elizabeth Tower, renamed in honor of the Queen Elizabeth II's Diamond Jubilee. Your expert guide will keep the parliamentary theme going as you're lead down Whitehall and past the official residence of the Prime Minister, in Downing Street.
Walk through Admiralty Arch and into Trafalgar Square. Take the time to admire the many monuments and gaze up at Nelson's Column positioned at the centre of the square, the tall sandstone statue was built in 1843 to commemorate Horatio Nelson's death at the battle of Trafalgar.
There are many more awe inspiring landmarks and other photo stops along the way on this unmissable walking tour including a view of the London Eye from across the River Thames, a visit to Churchill's WW2 Bunker hidden beneath the streets of Westminster, and the Household Cavalry Museum at Horse Guards Parade set in the very heart of ceremonial London.
London's Amazing Palaces and Parliament - Westminster Walking Tour starts outside the Grosvenor Victoria Hotel at 2.00pm and will end at approximately 5.00pm