St Paul's Cathedral Tickets - Skip the Line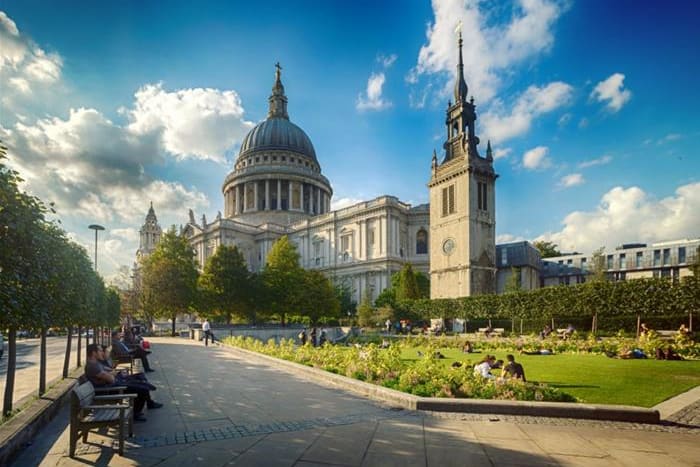 TOUR BESCHREIBUNG
Beat the queues and step inside Christopher Wren's architectural masterpiece
There has been a Cathedral on this site since 604 AD
The final resting place of historic figures including Horatio Nelson and Christopher Wren himself
Explore the absolutely stunning architecture inside the Cathedral including the Dome, the artworks and the tombs
The Cathedral survived the Blitz and was the setting for the wedding of Prince Charles and Princess Diana
Entrance to St Paul's Cathedral
Food & Drinks
Wichtige Informationen
Please note:
Please note Senior age will increase from 10th of January 2022 from 60 years to 65 years.
Within the Dome, the Whispering Gallery remains closed to the public until further notice.
Subject to the day of the week, the Stone Gallery and Golden Gallery are open.
Stone and Golden Galleries are open on Saturdays and daily during half term holiday period.
Entrance to the Golden Gallery is subject to availability due to continued distancing measures and there may be time restrictions in place.
The café and restaurant remain closed.
St Paul's Cathedral offers complimentary entry for a visitor with a disability and an accompanying carer or necessary companion – these tickets should be requested on arrival.
Visitors are allowed to take photographs in designated areas. Filming, the use of flash, additional lighting, tripods, monopods and selfie sticks are not permitted.
Children under the age of 6 are admitted free of charge and do not require a ticket (Children must be accompanied by an adult when visiting the galleries).
Face coverings: The wearing of face coverings is no longer mandatory, however we welcome and encourage worshippers, visitors, staff and volunteers to continue to wear masks if they prefer, and encourage everyone to be mindful and respectful of the choices of others.
Party size: There are no limits on party sizes.
NHS App: Visitors are welcome to use the NHS COVID-19 app on their phone or device to check in at the Cathedral should they wish.
Physical distancing: We ask that all worshippers and visitors please be respectful of those who may wish to maintain social distancing.
One-way system: There will no longer be a one-way system in place, although we ask that visitors are mindful and considerate of others as they move around the Cathedral. Step free access is still available via the South Transept. There is again two-way access on the main stairs from the Cathedral Floor into the Dome Galleries. Please note that access to the Golden Gallery remains capacity managed and therefore entry is subject to availability and there may be time restrictions in place.
Cleaning regime: Our staff are regularly cleaning the visitor areas to keep the Cathedral clean and safe for visitors and staff.
Hand sanitiser: There are hand sanitiser stations on entry to the Cathedral. Visitors are welcome to use their own hand sanitiser as well.
Opening times
1st October until further notice
Monday to Saturday
8.30am to 4.30pm (last entry 4pm), expect Wednesdays the Cathedral opens at 10am.
Dome Galleries open Mondays, Fridays and Saturdays only, and daily during school holidays, last entry 4.15pm.
25th to 30th October 2021 - Stone and Golden Galleries open daily during half term holiday period.
Planned early closures/late opening:
1st January - Cathedral opens for sightseeing 09.00
11th February - Cathedral opens for sightseeing 13.00
2nd March - Ash Wednesday. Cathedral open for prayer and worship only and no
sightseeing
Venue Information:
St Paul's Cathedral, St Paul's Churchyard, London EC4M 8AD
Nearest Train Stations: Blackfriars, Cannon Street or London Bridge
Nearest Underground: St Pauls Public Bus Routes: 4, 11, 15, 23, 25, 26, 100, 242
Mehr Informationen
Dedicated to Paul the Apostle, there has been a Cathedral on the same site since 604 AD, created in its present form by Sir Christopher Wren in the 17th century after the Great Fire of London.
Dominating the London skyline for 300 years, St Pauls Cathedral has seen many historic events including the wedding of Princess Diana and Prince Charles, and is the final resting place for multiple prominent figures from history including Admiral Lord Nelson, and Sir Christopher Wren himself.
Walk under the instantly recognisable Dome which stands at 365 metres, one for every day of the year, notice that the floor plan of the entire building is in the shape of a cross, and just marvel at the stunning feat of engineering and architecture. Wander through the Golden Gallery, The Stone Gallery and 'Great Paul', the 16 ½ tonne bell in the South West tower.
See St Paul's Cathedral Opening Variations and Closures December 2021 – May 2022