Hop-on Hop-off Oxford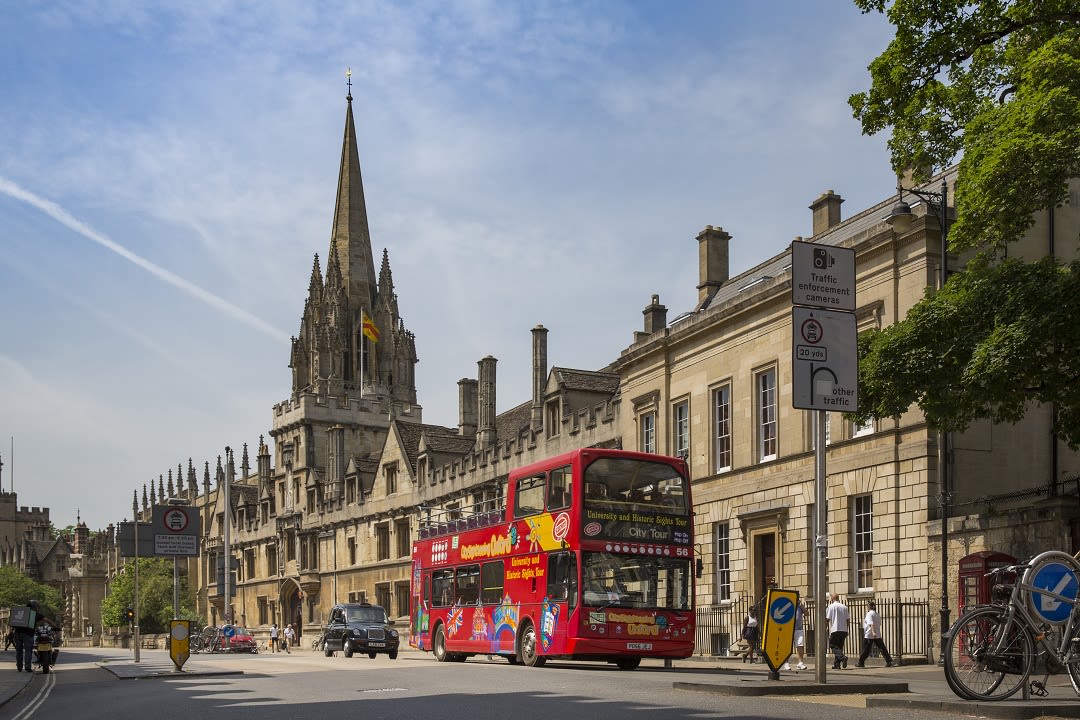 TOUR DESCRIPTION
Explore historic Oxford with our 24 hour Hop-on Hop-off ticket
Hop-off at the Bodleian Library, the Ashmolean Museum and Magdalen College
Take the bus tour in full lasting 60 minutes
A friendly tour guide and audio guides available in 14 languages
Hop-on or off as many times as you like at any of the 20 stops
Hop-on Hop-off tour of Oxford
Audio guides available in English, Spanish, French, German, Italian, Japanese, Chinese, Portuguese, Russian, Polish and a Kids Commentary
Entries to attractions
Refreshments
Travel to or from Oxford
Important Information
Duration
Usually 40 minutes, however due to current roadworks around the city it may take up to 90 minutes.
Frequency
City & University Tour
Low Season ( 1st April to 20th June and 1st to 31st October)
First Tour: 09:30 Last Tour: 17:00 Frequency: departures every 30 minutes Monday to Thursday and every 20 minutes Friday – Sunday.
Mid-Season (21st June to 22nd July and 1st to 30th September)
First Tour: 09:30 Last Tour: 17:30 Frequency: departures every 20 minutes Monday - Thursday and every 15 minutes Friday - Sunday. Last tour 17.30
High Season (23rd July - 31st August)
First Tour: 09:30 Last Tour: 18:00 Frequency: departures every 15 minutes daily, with the option of dupes to provide capacity if needed.
Closures
1st January, 25th & 26th December
Please note:
You must show a paper ticket to be able to board the bus.
Stop 13 is now near Wadham College on Parks Road (Stop name changed to Wadham College). DROP OFF ONLY
Stop 14 is still on Broad Street but moved into a planter near Blackwell (Stop name Trinity College)
MORE INFORMATION
Discover iconic Oxford on our Hop-on Hop-off tour bus, passing all the major sightseeing essentials. Hop-on or off as many times as you like within 24 hours at any of the 20 stops as you explore this historic city at your leisure.
On average nearly a whopping 16,000 tourists a day visit Oxford, flooding to the remarkable city to see its world famous universities that have shaped the likes of Malala Yousafzai, Richard Burton, and T. S. Eliot.
Hop-off at the Bodleian Library and visit one of the oldest libraries in the world, or the Carfax Tower, the official centre of Oxford. Climb to the top for the best views over the city.
Wander down the cobbled streets where history lurks around every corner, and find a quaint place for lunch among the boutiques and stunning architecture.