The Ghost Bus Tours - York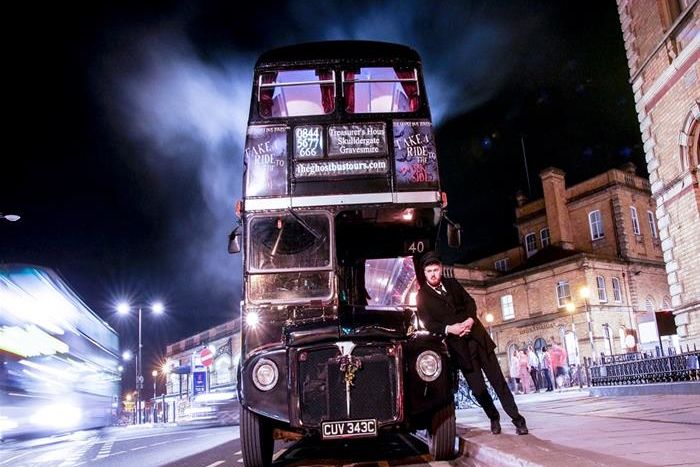 Important Information
Schedule:
Operating times:



Tuesday to Sunday: 7:30pm

Fridays to Sundays: 6:00pm

Saturdays: 6:00pm, 7:30pm & 9:00pm



Starting point: Station Rd, Bus stop RE, York YO24 1AA, UK



Duration: 1 hour 15min



The tour will not operate on Christmas Eve, Christmas day and New Year's Eve.

Departure point:
Bus Stop RE by York station on Station Road on the south side of the Royal York Hotel. Nearest signed pub is The York Tap
Please note:
All customers must have a valid ticket to board a tour.
The ticket is valid for use only for the time and date stated on the ticket.
Customers must arrive 15 minutes before the start of the tour as the bus cannot wait for latecomers.
Tickets / order numbers are non-transferable.
Under 16's must be accompanied by a paying adult.
Children under 5 attend free, at parents' risk.
Only one child under 5 years old per adult may travel for free provided they do not occupy a seat to the exclusion of a fare paying passenger.
The tour lasts approximately 1 hour and 15 minutes (depending on traffic).
Buses are not wheelchair accessible.
There are no toilets onboard the bus.
The Ghost Bus Tours take no responsibility for items left on the bus. Personal items are carried at the owners risk and The Ghost Bus can take no responsibility for items damaged or lost.
Smoking, eating, and drinks other than bottled water are not permitted on the bus.
Some tours may include a short stop, where you are allowed the opportunity to disembark if you so choose. Leaving the bus at this point in the tour is not mandatory and is taken at your own risk. The Ghost Bus Tours take no responsibility for any injury or incident that occurs outside of our vehicles.
Please be aware that we operate on historic vehicles and as such whilst we try our upmost to maintain the buses to the highest standards on occasion the buses may encounter mechanical problems. In the event of a breakdown we will attempt to fix the problem or deploy a secondary vehicle within 90 minutes of the problem occurring. Only after 90 minutes has passed will refunds be guaranteed.
MORE INFORMATION
Uncover the sinister side of York with this theatrical sightseeing Ghost Bus Tour on a classic 1960's Routemaster bus. Embark on a 75-minute spine tingling journey like no other as on-board actors and technical trickery combine to create an immersive experience. Hear about the ghosts that reside in the medieval walls of the city as the creepy conductor's narration ignites your imagination. Buses are painted in midnight-black, with antique lamps and plush red velvet curtains to set the scene. Learn about the darker side of York as you travel past many of the city's most famous landmarks including Clifford's Tower, York Minster, and Dick Turpin's grave. Can you hold you nerve during this hilarious comedy horror show journey!