York Open Top Bus Tour and Cruise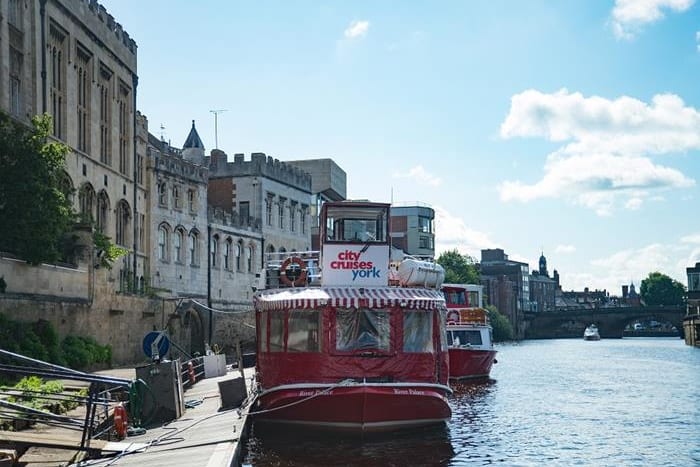 TOUR DESCRIPTION
Explore York on an open top hop-on-hop-off bus tour with live guide on this 45 minute tour. Your ticket is valid for 24 hours. Then take to the River Ouse for a 1 hour cruise of York by water. There is no better way to experience everything that York has to offer.
An open top bus tour ticket valid for 24 or 48 hours
A river cruise ticket
A professional live guide on the bus and river cruise
Refreshments
Gratuities
Important Information
York Open Top Bus Tour Schedule:
Monday 6th September until Friday 22nd October 2021
Monday to Friday:
30 Minute Service until 1400 then hourly till finish.
Saturday & Sunday:
20 Minute Service all day.
October Half term (23rd till 31st October 2021)
Daily
Buses operate every 20 Minute Service all day.
A circuit takes approx. 45 minutes
Please note there is a schedule diversion from 19th of Sept to 31st of October. Bus stop 2 will not be served.
Click here to see amended route map.
River cruise:
Days of operation: Daily
Meeting Points: King's Staith landing, King's Staith, York, YO1 9SN
Start time: King's Staith at 10:30am, 12:00pm, 1:30pm, 3:00pm (& 4:00pm April to October only)
Meeting Points: Lendal Bridge, Lendal Bridge, York, YO1 7DP
Start time: Lendal Bridge at 10:40am, 12:10pm, 1:40pm, 3:10pm (& 4:10pm April to October only)
Additional sailings can operate every 30 minutes between these times, you will be advised of this whilst waiting.
The usual route turns at Clifton Bridge and Millennium Bridge, but can vary.
MORE INFORMATION
There can be no better way to see York, then by road and water. This must have package ensures both.
Board the open top hop-on hop-off bus at one of the 20 stops and disembark wherever you would like to further explore, or take the whole 45 minute circuit. After this, you can board your river cruise at either King's Staith landing or at the Lendal Bridge landing, and admire the scenery from the comfort of the enclosed saloon or the upper deck.
The walled city of York has many beautiful landmarks that you will pass, and your live guide (on both the bus and cruise), will give you those important facts about many of them.
We will be providing single-use masks on this tour, although customers are welcome to provide their own
Click here to view the route map
Amended Route Map from 19th September until 31st October due to road diversions.
Please note that stop 2 will not be serviced whilst the diversion is in place.