Christmas Day Sightseeing Cruise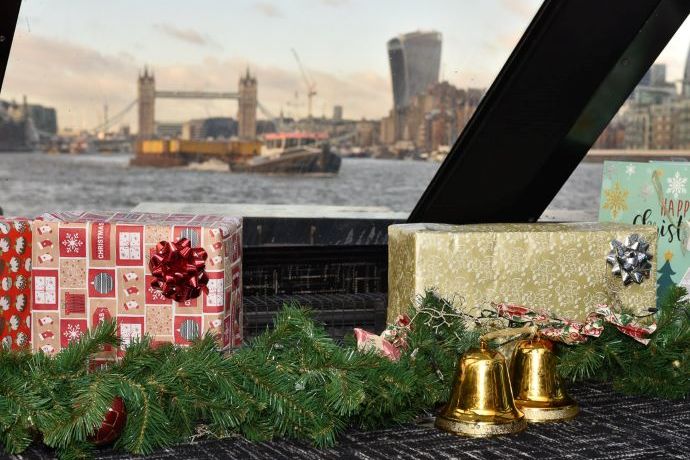 DESCRIPTION DU TOUR
Go on a cruise on Christmas Day!
See the best of London from a unique perspective
Stay cosy in the fully heated upper and lower decks
Treat yourself to mince pies and mulled wine from the licensed bar
Various departure times throughout the day
One-hour long circular sightseeing cruise
Live commentary
Licensed bar
Food and drink
Gratuities (optional)
Transfer to and from the pier
Une information important
Schedule
Date of Departure: 25 December 2023
Departure point: Westminster Pier
Departure times: 9:45am, 10:15am, 11am, 11:30am,12:15pm, 12:45pm, 1:30pm, 2pm, 2:45pm (boarding time is 20 minutes prior).
Return point: Westminster Pier
Pelase note:
Boarding is 20 minutes prior to departure
A valid ID will be required for the purchase of alcohol
Plus d'informations
Jingle all the way along the River Thames this Christmas Day with an unforgettable Thames Circular Cruise Sightseeing cruise! This is your chance to take in London when it's at its most peaceful moment and see the best sights of the city, including Tower Bridge, Tower of London, the Coca-Cola London Eye and St. Paul's Cathedral.
This one-hour long cruise will be departing from Westminster Pier at various times throughout Christmas Day – pick the time that suits you best, make sure you board at least 15 minutes prior to the departure time and enjoy the spectacular views and unusual tranquillity of London on this special occasion.
Take your pick from the lower deck or upper deck (both will be fully heated so no need to worry about the chilly temperatures) and relax as you listen to the live commentary on board. As London is brimming with history it is only fitting that the commentary on board share some fascinating stories about this city – prepare to be inspired, surprised and terrified!
If at any point you get peckish you'll have the option to purchase mince pies as well as mulled wine from the on-board licensed bar – just what you need to get into the spirit of things.
You'll be dropped back at Westminster Pier an hour from when you got on, allowing you to continue to celebrate Christmas Day in one of the best cities of the world.