Windsor Castle, Bath and Stonehenge Tour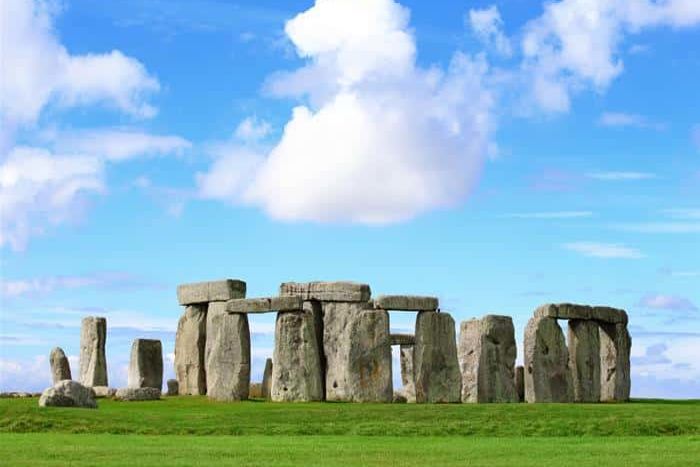 DESCRIPTION DU TOUR
Château de Windsor
Queen Mary's Dolls 'House et The State Apartments
Stonehenge
Thermes romains
Admissions au château de Windsor, à Stonehenge et aux thermes romains
Guide professionnel
Transport par autocar climatisé de luxe
Visite à pied gratuite
Les pourboires
Aliments et boissons, sauf indication contraire
Une information important
Days of Operation
Daily (Windsor Castle closed Tuesdays and Wednesdays, a walking tour of Windsor operates on these days)
Languages:
English – Thursday to Monday
Chinese (Mandarin) – Tuesday, Thursdays & Saturdays
Japanese – Monday and Saturdays (From Sep - March)
Korean – Fridays (Not Operating)
Spanish – Friday & Sundays
Itinerary:
Departure details
Check-in: 7:30am
Departure time: 8:00am
Return time: approx. 8:00pm to Gloucester Road
Departure point: Stop Z6 outside 50 Grosvenor Gardens, London, SW1W 0DH
what3words location: locals.milk.relay
Windsor Castle closures:
Every Tuesday and Wednesday
24-26 December Castle closed
11 - 15 January 2024 - Castle closed
29 March 2024 - Castle closed
St. George's Chapel
St. George's Chapel is usually closed to visitors on Sundays as services are held throughout the day. Worshippers are welcome to attend the services.
Friday, 8 December 2023 - St George's Chapel opening 11:00
Saturday, 23 December 2023 - St George's Chapel closing 13:00
Return point: Due to legal working hour's restrictions for our drivers, this tour will finish within a 2 or 3 minute walk of Gloucester Road Underground Station.This station is in Zone 1 and is three stops Eastbound on the Circle Line or the District Line to Victoria. The Piccadilly Line also runs through Gloucester Road, and is only 5 stops to Piccadilly Circus.
Please note:
Download the audio tour in advance, please search for the 'Stonehenge Audio Tour' in your App store, until further notice.
Windsor castle is closed on 26th of December so we will be operating a walking tour of Windsor instead
Windsor Castle is closed on Tuesdays and Wednesday, we will offer a walking tour instead on those days.
You must bring the e-ticket provided to gain entry to this tour.
Our vehicles are modern, comfortable, and kept to the highest standards of cleanliness, including a deep clean every day.
During peak periods, additional vehicles without Wi-Fi may be used.
Windsor Castle is a working royal palace and planned closures/disruptions may be subject to change.
When the State Apartments are closed the Precincts, Queen Mary's Dolls' House and the Drawings Gallery will remain open.
Due lift maintenance, the walk from Windsor coach park to the Castle will include the use of some stairs
St. George's Chapel is closed to visitors on Sundays.
Plus d'informations
château de Windsor
Premier arrêt sur cette tournée impressionnante est le somptueux château de Windsor. Faites une courte promenade dans la ville pittoresque de Windsor et approchez la résidence de week-end préférée de Sa Majesté la Reine! Une maison royale depuis plus de 900 ans, ce château tentaculaire est spectaculaire et ancré dans l'histoire.Les appartements d'état sont un spectacle à voir. Rempli avec des armes ornées et des œuvres d'art inestimables, y compris des pièces de Leonardo da Vinci et Rembrandt, l'audio-guide vous dit tout ce que vous devez savoir sur chaque pièce richement décorée. Visitez la maison de poupée complexe de Queen Mary, qui comprend une petite argenterie, une minuscule cuisine de travail et une mini version des bijoux de la Couronne! La chapelle St George est le dernier lieu de repos de la reine mère, ainsi que Henry VIII et son épouse bien-aimé Jane Seymour.
Stonehenge
Continuez votre voyage pittoresque vers le mystique Stonehenge. Ces roches mystérieuses se trouvent sur la plaine de Salisbury depuis plus de 5 000 ans; certains disent que nous ne saurons jamais avec certitude ce qu'ils représentent. Peut-être que c'est une horloge astronomique? Peut-être que c'était un temple religieux. Quoi que vous décidiez, rien ne peut égaler le sentiment de se tenir devant un tel monument.
Une baignoire
Une ville à couper le souffle, Bath a été la première ville en Angleterre à devenir un site du patrimoine mondial de l'UNESCO. Rempli de l'architecture exquise romaine et géorgienne et mettant en vedette des sources chaudes naturelles qui étaient autrefois populaires pour le bain public, voir l'abbaye de Bath du 15ème siècle et explorer les étonnantes boutiques indépendantes et les cafés pittoresques.
Bains romains
Vous ne pouvez plus vous y baigner, mais les thermes romains sont toujours une attraction historique charmante et ont donné son nom à la ville, preuve que les thermes valent le détour! Vous visiterez également la Pump Room et aurez l'opportunité de siroter les eaux de Bath dans ce charmant salon néo-classique.L'heure d'arrivée estimée à Londres est d'environ 20h00.
Visite à pied gratuite
Le complément parfait pour explorer le Royaume-Uni est une visite à pied gratuite de Londres. Amusant, informatif et un excellent moyen de voir la ville, se rapprocher et personnel avec un certain nombre de célèbres hotspots de Londres. Renseignez-vous sur les lieux préférés de la famille royale à Londres ou découvrez où les Beatles ont fait de la musique et se sont décoiffés. Votre visite à pied gratuite peut être prise à tout moment pendant votre séjour.
Choisissez parmi:
La visite royale à piedThe Beatles London Visite à pied