Windsor Castle and Hampton Court Palace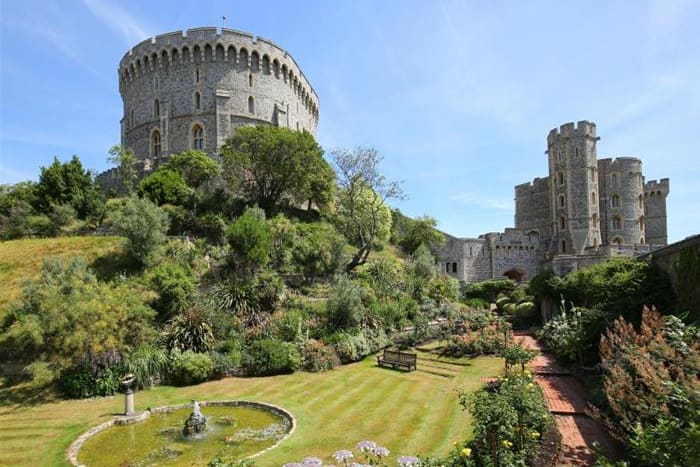 TOUR DESCRIPTION
Enjoy entry to Windsor Castle and Hampton Court Palace
Return travel from London on a comfortable coach
See two historic royal English landmarks
A fully guided tour with a professional guide
Entry to Hampton Court Palace and Gardens
Entry to Windsor Castle State Apartments
Luxury air-conditioned coach
Fully guided tour with professional tour guide
Additional food and drink
Important Information
Itinerary:
Days of operations: Monday & Saturday
Check-in: 8:00am
Departure time: 8:30am
Departure point: Golden Tours Visitor Centre Victoria, Bus Stop 1, Bulleid Way, Victoria, London SW1W 9SH
Return time: approx. 5:30pm
Return point: Golden Tours Visitor Centre Victoria, Bus Stop 1, Bulleid Way, Victoria, London SW1W 9SH
Please note:
You must bring the e-ticket provided to gain entry to this tour.
Our vehicles are modern, comfortable, and kept to the highest standards of cleanliness, including a deep clean every day.
During peak periods, additional vehicles without Wi-Fi may be used.
Windsor Castle is a working royal palace and planned closures/disruptions may be subject to change.
When the State Apartments are closed the Precincts, Queen Mary's Dolls' House and the Drawings Gallery will remain open.
Windsor Castle closures: 25 and 26 December – Castle completely closed.
St. George's Chapel is usually closed to visitors on Sundays as services are held throughout the day. Worshippers are welcome to attend the services.
Hampton Court Palace will be closed for filming from Wednesday 22 September to Friday 24 September.
Due to legal working hour's restrictions for our drivers, this tour will finish within a 2 or 3 minute walk of Gloucester Road Underground Station. This station is in Zone 1 and is three stops Eastbound on the Circle Line or the District Line to Victoria. The Piccadilly Line also runs through Gloucester Road, and is only 5 stops to Piccadilly Circus.
MORE INFORMATION
Hampton Court Palace
A royal palace in the borough of Richmond upon Thames, Hampton Court Palace was built in 1515 by Cardinal Thomas Wolsey, favourite advisor to King Henry VIII. Once the most powerful man in the English court, second only to the King, Cardinal Wolsey fell out of favour with Henry after he failed to negotiate an annulment of his marriage to Catherine of Aragon so he could marry his latest obsession, Anne Boleyn.After Wolsey's death in 1530, Henry VIII took charge of Hampton Court, turning it in to a hotel, a theatre and a huge private playground, using it to demonstrate his enormous wealth.
When William III and Mary II (1689 – 1702) took the throne in 1689, they commissioned Sir Christopher Wren to build an elegant new Baroque Palace. Queen Victoria opened the palace to the public in 1838, and it has remained one of England's most beloved historic attractions. Wander through the vast kitchens where cooks would have worked day and night to bring Henry his poached dolphin and roasted swan, and head out to the beautiful gardens and see if you can escape the oldest surviving maze in the world.
Windsor Castle
The preferred weekend residence of our current Queen Elizabeth I, Windsor Castle is the oldest and largest occupied castle in the world. Also a favourite castle of Henry VIII, the place is now his tomb along with Queen Victoria, the Queen Mother and many more royals.Wander through the stunning State Apartments and take a look at St George's Chapel, where Harry and Meghan married. Queen Mary's Dolls' House is a must-see, with hot and cold running water, electricity and tiny items made by 1,500 of the finest craftspeople of the 20th century.
Keep an eye out for rare works of art on the walls from geniuses like Leonardo da Vinci and Michelangelo.