Entry to Leeds Castle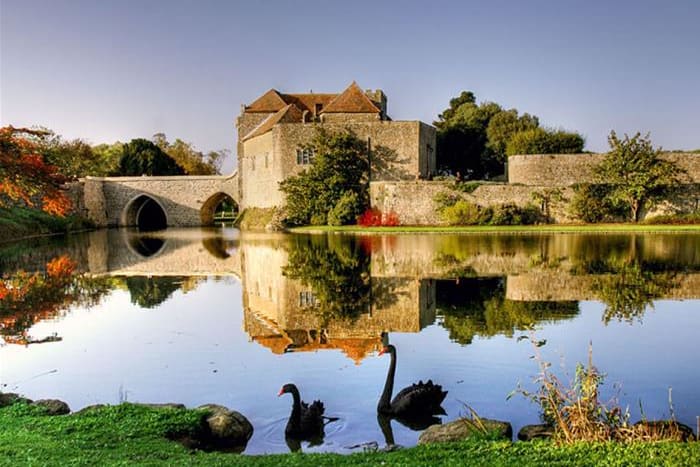 TOUR DESCRIPTION
A one day ticket to 'the loveliest castle in the world'
The castle is situated on an island surrounded by a beautiful moat
Explore over 500 acres of garden and parkland and spot Buzzards, Woodpeckers and Kingfishers
Discover 900 years of the Castle's history
Escape the Maze and visit the unique museum of dog collars
Single entry to Leeds Castle
1 Day visit ticket only
Transportation to and from Leeds Castle
Food and beverages
Important Information
Opening Hours:
April to September
Grounds and Gardens: 10am - 6pm (last entry 4pm)
The Castle: 10.45am - 4.30pm (last entry 3.45pm)
October to March
Grounds and Gardens:10am - 5pm (last entry 3pm)
The Castle: 10.30am - 3.30pm (last entry 2.45pm)
Planned Closures:
4th September 2021
6th/7th November 2021
25th December 2021
MORE INFORMATION
Located in Kent, England, the alleged 'loveliest castle in the world' oozes romance, history and intrigue as it sits on its little island in a lake by the River Len. The first stone castle was built on the site in 1119 and its Royal history began in 1278 after being purchased by Queen Eleanor of Castile. King Henry VIII made vast improvements to Leeds Castle in 1517, turning it in to a Royal Palace for his then Queen, Catherine of Aragon. Discover 900 years of history in this beautiful Castle in the Gatehouse Museum which explores its development from Norman beginnings to the years of Royal ownership, as well as centuries of private ownership and current status as an idyllic country retreat. The unique Dog Collar Museum is a fascinating collection of canine neckwear spanning five centuries, including an iron collar for a Mastiff to protect against the wolves and bears that would have roamed England and Europe at the time.
Children will love the Knights' Stronghold Playground, a wooden replica of Leeds Castle with climbing walls and zip wires, as well as the challenge of the Leeds Castle Maze, made from 2,400 yew trees. 500 acres of garden and parkland is home to numerous birds and wildlife as well as various curated gardens growing indigenous and exotic plants.