Afternoon Tea at The Grand York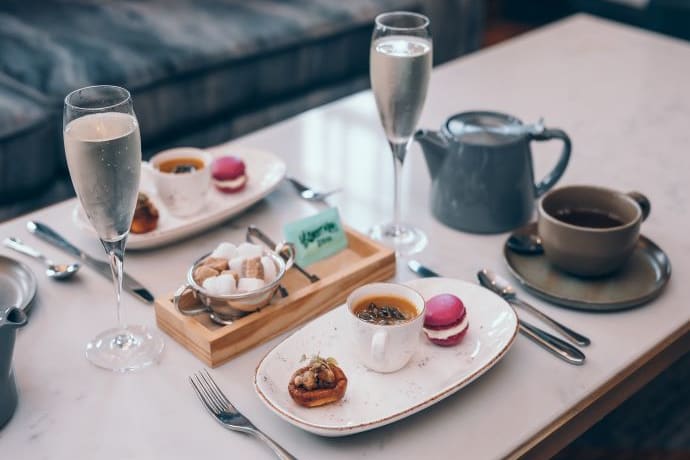 TOUR DESCRIPTION
Afternoon Tea at The Grand is served in the relaxing setting of The White Rose Lounge or Rise Restaurant. The Afternoon Tea includes a wide selection of teas and treats to tantalize your taste buds. The Grand Afternoon Tea is a contemporary menu with sandwiches, homemade scones and preserves and a selection of delicious cakes.
Afternoon Tea: Great selection of savoury and sweet treats
Gratuities
Important Information
Day of Operations:
Sunday to Friday (subject to availability).
Please note
The Afternoon tea will not operate on Saturdays, Bank holidays and Bank holiday Mondays.
MORE INFORMATION
There's nowhere quite like The Grand when it comes to dining in York. Presented on a silver stand, our elaborate tower of savoury and sweet treats is a feast for the eyes as well as the taste buds. Take in stunning views of the city walls from The Rise as you indulge in the best contemporary take on Afternoon Tea in York, with optional Prosecco, Champagne and Gin & Tonic upgrades, perfect for special occasions.
We provide you with the perfect excuse to indulge your taste buds with an impressive selection of all-time favourites.
The adult menu :
Sandwiches
Smoked Salmon and dill crème fraiche on malted loaf Ham and Honey Mustard on malted loaf Cucumber and chive cream cheese on white loaf Fennel and cranberry sausage roll
Cakes
Glazed Lemon Tartlet with Raspberries Strawberry and Elderflower Cheese Cake Chocolate and Hazelnut choux pastry Pistachio Roulade with Crème Pâtissière
Scones
Plain Scone Fruit Scone Clotted Cream Selection of Preserves A selection of the finest hot drinks.